ABOUT THE BOOK: BLUE OCEAN STRATEGY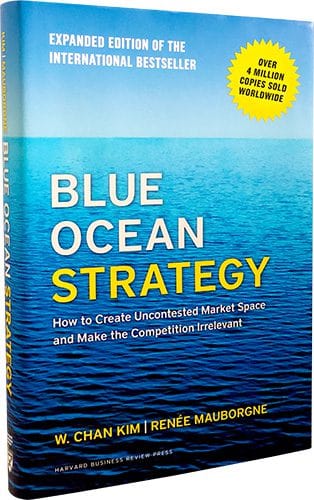 Recognized as one of the most iconic and impactful strategy books ever written, Blue Ocean Strategy argues that cutthroat competition results in nothing but a bloody red ocean of rivals fighting over a shrinking profit pool.
Based on a study of 150 strategic moves, spanning more than 100 years across 30 industries, the authors, Chan Kim and Renee Mauborgne show that lasting success comes not from battling competitors but from creating "blue oceans" — untapped new market spaces ripe for growth.
Embraced by organizations and industries worldwide, Blue Ocean Strategy is a global phenomenon that has sold over 4 million copies, is published in a record-breaking 47 languages and is a bestseller across five continents. First published in 2005, it was updated and expanded with fresh content in 2015.
Blue Ocean Strategy presents a systematic approach to making the competition irrelevant and capture their own blue oceans.
BLUE OCEAN STRATEGY WILL SHOW YOU:
WHAT is distinctive about blue ocean strategy as a theory
HOW is blue ocean strategy different from a classic differentiation
strategy or a low-cost strategy
HOW to reconstruct market boundaries
WHY you need to focus on the big picture
HOW to reach beyond existing demand
HOW to overcome organizational hurdles
HOW to build execution into strategy

AS SEEN IN:
What is Blue Ocean Strategy