Blue Ocean Leadership was created by world-renowned professors Chan Kim and Renée Mauborgne. The same way that blue ocean strategy can create uncontested market space, blue ocean leadership can unleash the ocean of untapped talent and employee potential in organizations.
Unlike most research in the field of leadership that has largely drawn on psychology and cognitive science, blue ocean leadership looks to the field of strategy to inform the practice of leadership in business.
WHAT IS BLUE OCEAN LEADERSHIP?
Blue Ocean Leadership provides a systematic way to unlock the ocean of unrealized talent and energy in your organization fast and at low cost. It achieves this while conserving leaders' most precious resource: TIME.
Blue Ocean Leadership in essence, can be thought of as a service that people in an organization either 'BUY' or 'DON'T BUY'.
CONVENTIONAL LEADERSHIP DEVELOPMENT APPROACHES
Focus on the values, qualities and behavioral styles that make for good leadership under the assumption that these ultimately translate into high performance.
Tend to be quite generic and are often detached from what organizations stand for in the eyes of their customers and the market results their people are expected to achieve.
Focus mostly on the executive and senior levels of organizations.
Invest extra time for leadership practices added on to people's regular work.
BLUE OCEAN LEADERSHIP
Focus on what acts and activities leaders need to undertake to boost their teams' motivation and business results, not on who leaders need to be.
Connect leaders' actions closely to market realities by having the people who face market realities define what leadership practices hold them back and what leadership actions would enable them to thrive and best serve customers and other key stakeholders.
Distribute leadership across all three management levels because outstanding organizational performance often comes down to the motivation and actions of middle and frontline leaders who are in closer contact with the market.
Pursue high-impact leadership acts and activities at low cost by focusing as much on what leaders need to eliminate and reduce in what they do as on what they need to raise and create.
© Chan Kim & Renée Mauborgne. All rights reserved.
WHY DO YOU NEED BLUE OCEAN LEADERSHIP?
Disengaged employees cost your business.
HOW TO PUT BLUE OCEAN LEADERSHIP INTO PRACTICE?
Follow the four-step process to convert noncustomers into customers of your leadership.
Blue Ocean Leadership
involves a four step process that allows leaders to gain a clear understanding of just what changes it would take to bring out the best in their people, while conserving their most precious resource:
TIME
01
See your leadership reality.
02
Develop alternative
Leadership Profiles.
03
Select to-be Leadership Profiles.
04
Institutionalize new leadership practices.
A British Retail Group (BRG) applied Blue Ocean Leadership to redefine what effectiveness meant for frontline, midlevel and senior leaders.
Releasing the ocean of untapped talent and energy of employees is something few companies can afford not to do. Visualising blue ocean leadership in comparison to conventional leadership practices will help you with implementation.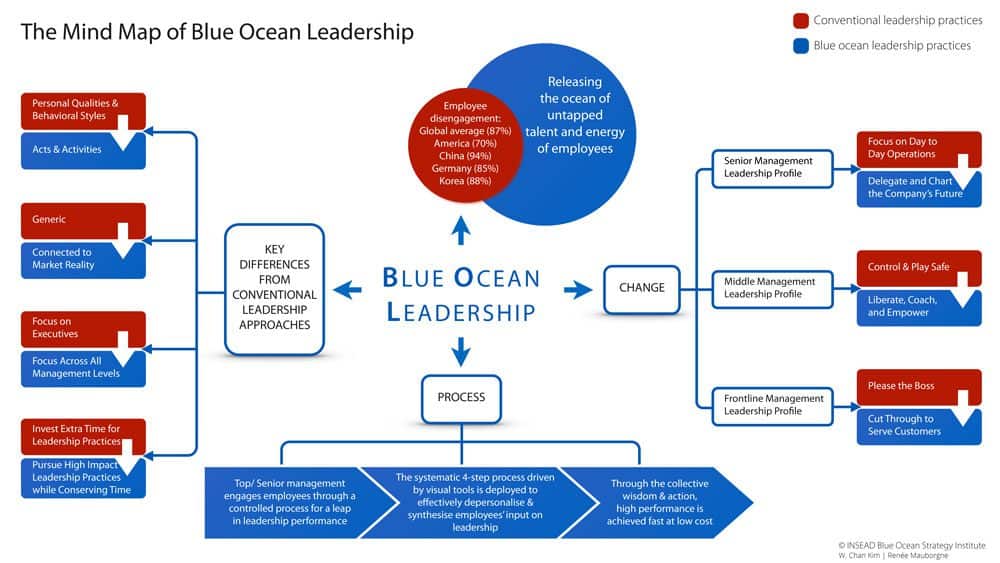 BLUE OCEAN
LEADERSHIP Q & A
Check out some of the most frequently asked questions on Blue Ocean Leadership
THE BLUE OCEAN STRATEGY PRACTITIONER PROGRAM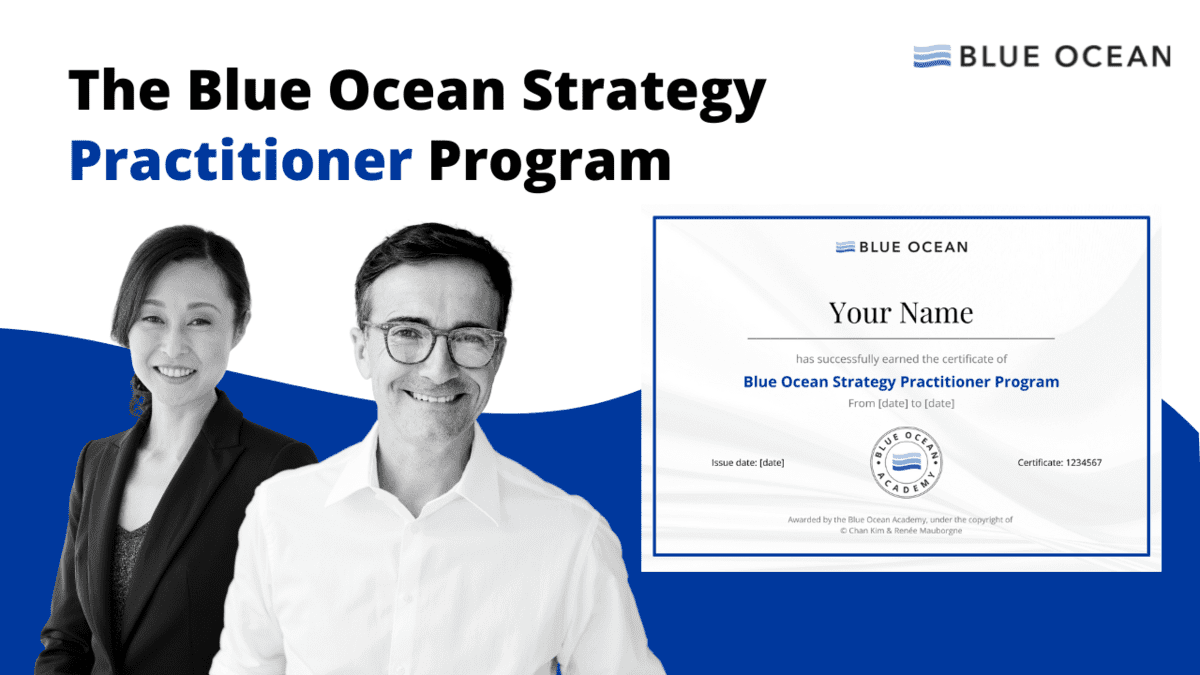 Join the ranks of blue ocean strategy practitioners with our globally recognized program
Learn how to put blue ocean theory and its tools and frameworks into practice in just 5 weeks with our interactive, expert-led program.